---
The car in the photos belongs to Brian Canny the owner of MrBrakes of Ballarat. Brian campaigns this car in Tarmac rallies in Victoria, Tasmania and South Australia.
This is a very well developed vehicle fitted with an engine from a Porsche 968, the later development of the 944.
The technicians at MrBrakes oversaw the rebuilding of this engine to blueprint specs, with a slight increase in compression up from 10.7 to 11.1 to 1.
These engines, when new, were the largest 3 litres four-cylinder engines in production and probably still are. They were based on the Porsche 928 V8 engine and were often said to be half of that engine. Both engines were developed in conjunction with each other and were state of the art at the time.
The bores are Nikasil coated, which provides a low friction surface between aluminium pistons and cylinders. (see below Wikipedia information)
The 968 engine had special lightweight pistons and con rods and a feature of this engine was a squirt of oil up into the piston skirt to help with cooling.
The head is a twin overhead cam, 16 valves, unit made from an aluminium alloy containing magnesium for lightness and strength. The cams have a "vario-cam" system that changes the inlet valve timing to produce torque when needed. The timing is changed at 1500 revs and back again at 5000 in order to produce more torque in the intermediate range and then maximum power from 5000 to 6750 RPM. 
We had the head "flowed" to check out its efficiency and the figures were astounding; at 5 thou lift, it flowed 350cfm (cubic feet per minute); which equates to a potential to develop around 350bhp at very high revs. This is not the case with standard engines.
In the re-build all moving parts were re-balanced and a lightweight flywheel and clutch replaced the original (all available from MrBrakes). The ECU was re-chipped with a proven upgrade for improved torque and power resulting in excellent on-road performance and power around 260 bhp or 195 kilowatts.
The brakes are the Porsche M030 upgrade and provide prodigious stopping power when fitted with Pagid pads, which we recommend and supply.
The suspension was upgraded with Bilstein shock absorbers and Eibach coil-overs, with tarmac rally roads in mind; in other words not too firm. As a result, the car handles and stops very well.
A comprehensive roll cage was fitted by a local engineer and provides rigidity for the vehicle as well as safety for driver and passenger. Give me a call for our roll cage fellow's number, he's good value.
The car runs on state of the art Yokohama R050 R spec tyres, on 7.5×17 and 9×17 Porsche Cup wheels. These tyres are the ultimate for both dry and wet weather and are also an excellent track tyre providing superb grip. MrBrakes can arrange supply at the right price.
Brian and navigator Paul, recently achieved Early Modern 7MS class wins in Classic Tasmania, Targa Tasmania and with head mechanic Matt in the passenger seat brought home two class trophies from Adelaide Hills Tarmac Rally in 2010.
Porsche 944's are one of the best handling cars and can be steered on the throttle; four-wheel drifts through corners (on a race track) are both safe and fun. 
Preparation
At MrBrakes our philosophy starts with preparation and preventative maintenance. There is no point in not finishing a rally or not arriving at one's destination due to faulty preparation. We apply the same parameters to customer's cars as we do to our race car preparation.
The race car must be thoroughly prepared to endure the rigours of the rally or the race track. The engine, suspension, brakes, gearbox, drive-shafts, all must be thoroughly checked and all fluids checked and replaced if necessary.
We only use top quality engine oil as recommended by the manufacturer, in this case, Mobil 1 for the Porsche. This is very important in modern engines and helps to keep the engine components, particularly the valve-train, clean and free of deposits and prevents the damaging build-up of foreign matter.
In the race car, we use high temperature (Dot 5) brake fluid and regularly monitor the fluid condition throughout the rally. By bleeding the fluid from the calliper and checking for air or discolouration we ensure that the brakes perform at their optimum efficiency at all times
Again, MrBrakes technicians apply the same principals to all cars passing through the workshop that they do to preparing the boss' rally cars: and that includes checking all components, applying a preventative maintenance policy, attention to detail, communication of the problems and dealing with the solution.
Wikipedia
Nikasil is a trademarked electrodeposited lipophilic nickel matrix silicon carbide coating for engine components, mainly piston engine cylinder liners. It was introduced by Mahle in 1967, initially developed to allow rotary engine apex seals (NSU Ro80 and C111) to work directly against the aluminium housing. This coating allowed aluminium cylinders and pistons to work directly against each other with low wear and friction. Unlike other methods, including cast iron cylinder liners, Nikasil allowed very large cylinder bores with tight tolerances and thus allowed existing engine designs to be expanded easily, the aluminium cylinders also gave a much better heat conductivity than cast iron liners, which is an important factor for high-performance engines.
The Key to Successful & Safe Rally Driving
After preparation, the next important thing is to bring the car home in one piece.
Motorsport is dangerous and rally driving is very dangerous.
Brian's philosophy is to "minimise the risks".
Rally cars very rarely run off on a straight part of the road, most accidents happen in a corner or often over a blind crest followed by a corner; so it makes sense to enter a corner at a speed that enables you to exit properly and safely.
Good drivers set the car up for the corner by the following the old racing driver adage "slow in fast out", the sequence should be:
Brake before the corner – get off the brakes – turn in – then 
when the car is settled, start applying pressure to the accelerator and power through the corner in a nicely controlled manner – then
put the accelerator pedal to the floor until you do it all over again at the next corner.
Similar to a race track; the sooner you are on the gas the quicker you will be down the straight; this is why it is important to "go in" under control.
There is no point entering a corner too fast and then struggling to control the car through the corner, this is a dangerous way to drive and has been proven to be counter-productive and results in slow times and many tears.
Defensive Driving Course
All potential rally drivers are well rewarded by participating in a defensive driving course and once they have mastered how to brake and swerve in a controlled manner, then move on to an advanced high-speed driving course. These courses are run by various car clubs.
The Alfa Romeo Owners Club (Vic) run a course and various commercial operators, including Jim Murcott, John Bowe or Driver Dynamics. Refer to their respective web sites for more information, or give me a call at MrBrakes.
A defensive driving course should be mandatory for all drivers, young and old, male and female so that we can all learn to apply the same principles mentioned above, and learn to "minimise the risks".
All driving is dangerous. In fact, there are very few people killed in rallying, people do run off the road and damaged cars and those people often have not taken the time to provide themselves with the proper training.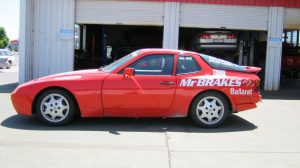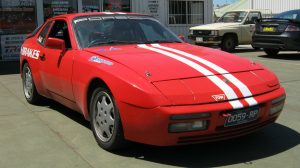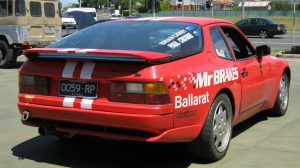 Find your nearest
Bosch Service workshop
VIEW NOW